Two-steps Open Solenoid Valve DGSV-2C
DGSV Solenoid Stop Valve is mainly used in the suction line, liquid line and hot gas defrosting line,it will open when power is on, and close when power is off.
Product Information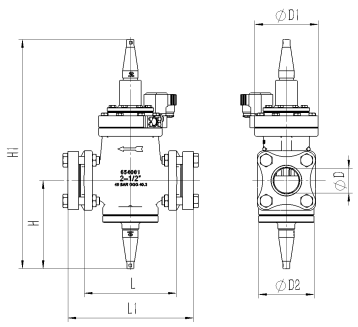 Technical Parameter
Nominal Diameter: DN40-DN125
Nominal Pressure: 2.8MPa
Applicable Medium: R12,R22,R502,R134a,R404a,R507,R717 and other refrigerants.
Applicable Temperature: -50 ℃ ~ + 120 ℃
The product has a manual start function to ensure the reliable operation of the system.

Two-steps Open Solenoid Valve DGSV-2C Type

Name

Model (DN)

Size(mm)

φD

φD1

L

L1

H

H1

DGSV-2C

40

47

144

248.5

300.5

222

410

50

59

144

248.5

300.5

222

410

65

78

160

252

331

222

485

80

91

176

311

389

273

535

100

110

222

359

450

292

580

125

135

257

393.6

475.6

410

660