Shut off Valves are designed to safely manage compressed air in pneumatic applications and are used to block compressed air in industrial automation processes and to isolate subsystems when not in use.
Types of shut-off valves
DoFun stop valve is mainly used to cut off or connect the pipeline, so that the system can operate normally. Therefore, it must be kept fully open or fully closed during use, and it is not allowed to be half open. Products are mainly divided into straight through stop valve and angle stop valve.Applicable medium: CO2,R12, R22, R502, R134a, R404A, r507, R717, etc
How do shut-off valves work?
Most commonly used for safety-related functions, using a shut-off valve as part of an air handling unit saves time and money and is considered best practice. A shut-off valve simplifies maintenance of the unit by quickly stopping air from entering the part of the application where it is in use, without affecting the rest of the system. Simple to operate, they can be used in situations where there is a safety hazard, equipment failure or where maintenance is being carried out.
Some shut-off valves can be locked in the closed position and can be tamper-proof through the use of padlocks, while other valves in the IMI Norgren range meet the requirements of a lock-out, mark-out (LOTO) system, in which case the machine must wait until maintenance is carried out before restarting work has been completed.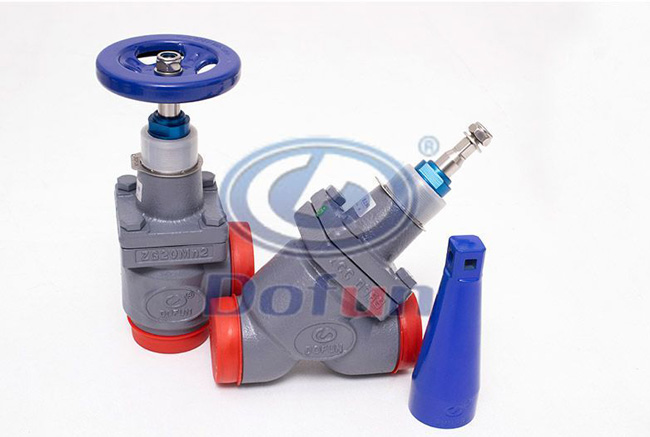 Stop Valve
How do I choose a shut-off valve?
There are different types and sizes of shut-off depending on the operation they require or the application in which the valve is provided to close. To select the correct type of shut-off valve you need to consider.
Range
Ambient temperature
Port size, location and type
Pressure
Type of application, e.g. LOTO requirements
Dimensions and weight
Typical applications for Shut-off valves
Shut-off valves provide safe control of compressed air in pneumatic applications and are used in many industries. Shut-off valves are also a useful accessory for stopping the air supply under controlled conditions where the process must operate correctly and safely.
An example of a shut-off valve in use is part of an annular main system. For example, a shut-off valve located above a dead-end drain would allow any water to drain out so that maintenance could be carried out.
ShanDong DoFun Refrigeration Technology Co., Ltd. ( Hereinafter referred to as DOFUN) is located in LiaoCheng, an ancient canal capital with rich historical and cultural heritage as well as beautiful scenery.
The main products conclude stop valve, check valve, stop check valve, overflow valve, motorized valve, throttle valve, filter and inlet pressure regulators etc. With strong technical force, excellent production equipment, complete detection means, strict system management, superior and reliable products and continuous products innovation, the valves of various materials produced by the company have been widely used in sectors of refrigeration, petrifaction, oil refining, nuclear power, chemical engineering, metallurgy, medicine, food, national defense, war and urban construction thereafter, DOFUN has gained great fame and affect at home and abroad, and received remarkable performance. If you want to get more information about angle shut off valve,please contact us.