DEVS Series Solenoid Valve (Steel Material)
The DEVS series solenoid valve(Steel valve)is a kind of stop valve which depends on the electromagnetic force to switch automatically. In the industrial refrigeration device, the solenoid valve is often used as the remote control stop valve, the regulation mechanism of the two position regulation system or the safety protection equipment. It can be applied to all kinds of gas, liquid refrigerant and other media.

Product Information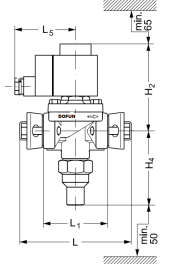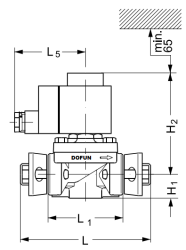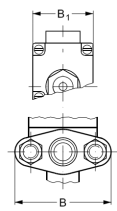 DEVS10 Structure Diagram DEVS15 DEVS20 Structure Diagram
Nominal Diameter: DN3-DN40

Applicable media: R12, R22, R502, R134a, R404A, R507, R717 and other refrigerants.

Applicable temperature: - 40 ℃ ~ + 105 ℃
Model (DN)

H1

mm

H2

mm

H4

mm

L

mm

L1

mm

L5 mm

B

mm

B1(max)

mm

Weight

(KG)

10w

12/20w

DEVS3




84




127

65

75

85

80

68

1.5

DEVS10

22

100

81

130

68

75

85

80

68

1.7

DEVS15




100

81

130

68

75

85

80

68

1.8

DEVS20




110

77

155

85

75

85

96

68

2.7
Model (DN)

H1

mm

H2

mm

H4

mm

L

mm

L1

mm

L5 mm

B

mm

B1(max)

mm

Weight

(KG)

10w

12/20w

DEVS25

46

141

78

162

92

75

75

95

68

3.0

DEVS32

47

115

53

175




75

80

80

68

4.0

DEVS40

47

115

53

175




75

80

80

68

4.0