Cartridge Filter CFVD Series
CFVD filters are used in front of Solenoid Valves,pressure regulating valve and other automatic Control Valves or equipment to prevent the wear of valves and equipment by impurities.
Product Information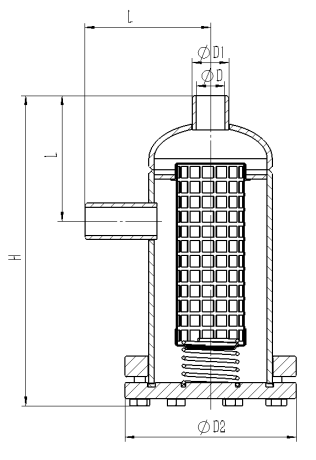 Technical Parameter
Nominal Diameter: DN15-DN80
Nominal Pressure: 2.5MPa
Applicable Medium: Ammonia,Fluorine and other refrigerants.
Applicable Temperature: -50 ℃ ~ + 150 ℃
The specifications of the filter screen are 150 mesh, 100 mesh, 72 mesh, 38 mesh, which can be selected according to the requirements of different pipeline.
Type

Nominal Diameter

(DN)

Size(mm)

Connection

ΦD

ΦD1

ΦD2

L

H

GB

DIN

CFVD

15

15

22

21.3

150

110

270

Butt welding

20

20

27

27

150

110

270

25

25

32

33.7

150

110

270

32

32

38

42.4

150

110

270

40

38

45

48.3

180

140

345

50

49

57

60.3

180

140

345

65

62

76

76

180

140

345

80

80

89

89

180

140

345

100

100

108

114.3

210

145

410

125

124

133

139.7

240

155

475

150

150

159

168.3

285

180

525