Differential Pressure Regulating Valve DPAV Series
DPAV Differential Pressure Regulating Valve adjusts the pressure difference when the inlet and outlet pressure difference is lower than the set pressure value, and opens or closes according to the set pressure difference value. It is suitable for the pressure adjustment of the liquid supply pump or can reduce the pressure of the medium line.
Applicable medium: R12, R22, R502, R134a, R404A, r507, R717, etc
Product Information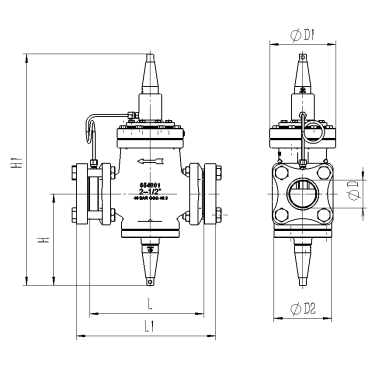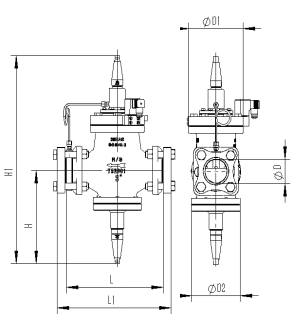 DPRV DPRV-1N
Product Name:Differential Pressure Regulating Valve

Model: DPAV
Nominal Diameter: DN25-DN125
Pressure Adjustment Range: A:0~10.3bar D:5.2~19.3bar
Nominal Pressure: 2.8MPa
Applicable Medium: R12, R22, R502, R134a, R404a, R507, R717 and other refrigerants.
Applicable Temperature: -50 ℃ ~ + 150 ℃
Valve Body: Low emperature ductile iron (suitable for low temperature conditions)
Stem: 304 stainless steel (extended life)
Diaphragm: Stamped imported stainless steel (valve opens with high sensitivity)

The product has a manual start function to ensure the reliable operation of the system.
Differential Pressure Regulating Valve

Name

Model (DN)

Size(mm)

φD

φD1

φD2

L

L1

H

H1

DPAV/DPAV-1N

25

34

117

108

214

251

205

488

32

40

117

108

214

251

205

488

40

47

144

140

273.5

325.5

222

552

50

59

144

140

273.5

325.5

222

552

65

78

159

140

277

356

222

566

80

91

176

170

336

414

273

600

100

110

222

195

384

475

292

653

125

135

257

235

418.6

500.6

410

735
| | |
| --- | --- |
| DPAV | DPAV-1N |
| DPAV Differential Pressure Regulating Valve adjusts the pressure difference when the inlet and outlet pressure difference is lower than the set pressure value, and opens or closes according to the set pressure difference value. It is suitable for the pressure adjustment of the liquid supply pump or can reduce the pressure of the medium line. | DPAV-1N Differential Pressure Regulating Valve(Solenoid Fully Open),which adjust when power is off,which adjust pressure difference when the inlet and outlet pressure difference is lower than the set pressure value.It is suitable for the relief pressure adjustment of the liquid supply pump or can reduce the pressure of the medium pipeline. When the power is on, the main valve open fully to make the outlet get a larger flow and pressure. |