There are many types of stop valves and there are various classifications. According to the form of flow channel, it can be divided into DC channel, Z-shaped flow channel, angular flow channel, DC flow channel and three-way flow channel, etc. The most popular three types of stop valve are explained by stop valve supplier.
Straight-through stop valve
The "straight-through" in the straight-through stop valveis because its connecting end is on an axis, but its fluid passage is not really "straight-through", but quite tortuous. The fluid must have a 90° turn to pass the valve seat, and then fold back 90° to return to the original direction. In cast valves, the shape and area of the channel varies depending on the valve size and pressure rating.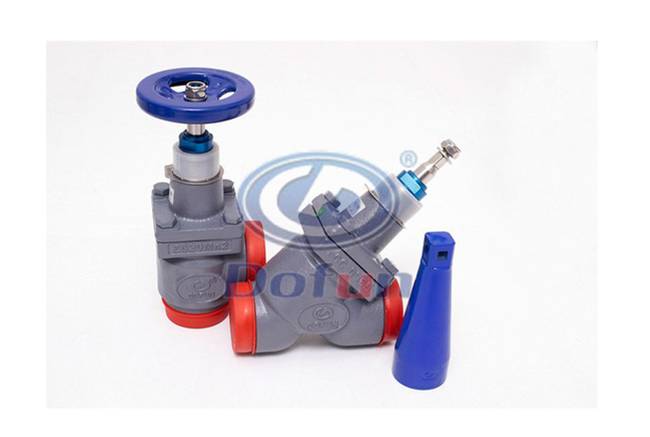 Angle type stop valve
Tracing the history of stop valve, the initial development was the angular stop valve, and then gradually developed into a straight-through stop valve. Although straight-through stop valve are more commonly used today, angular stop valve still have some unique advantages.
Angle stop valve allow fluid flow to change 90 directions, with fluid always entering from the bottom of the valve seat. The flow path is more open and less tortuous than a straight-through type, resulting in less pressure loss. Angled stop valve are less susceptible to solid particles. For better regulating characteristics, the valve flap can be designed as a claw or skirt type. Due to the change in flow direction, the valve body is subject to fluid reaction forces. These forces are not large under normal circumstances, but may increase due to valve bore specifications and fluid density.
Small copper alloy threaded connection angle stop valve are widely used in clean water service. Most industrial angle stop valve are of the bolted bonnet type and are manufactured in cast steel, but bronze, stainless steel and duplex materials are also used.
Angled stop valve are commonly available in sizes and pressure ratings from DN50 to 250 (NPS2 to 10) and Class 150 to 800, beyond which balanced flaps are often used to reduce the axial thrust of the fluid on the valve stem.
Direct current type stop valve
Also known as Y-shaped stop valve or angled stop valve, DC stop valve can become an intermediate state between straight-through and angled valves. In order to change the straight-through zigzag fluid passage, the seat hole is designed at an angle to the valve body so that the flow path becomes straighter with the axis to reduce pressure loss, so it is called "direct flow type". This structure is popular in most applications and is used in a large number of steam systems. Solids transfer capability has been greatly improved, but careful testing is required in use. Direct flow stop valve are also available in a single flow direction only. Flow paths are available in full and reduced diameters. They are not suitable for pipe cleaner purging without removing the valve cover.
The valve flaps are usually flat, with claw guides, or conical to meet the requirements of different operating conditions. Tapered valve sections can be designed with multiple tapers to produce primary and secondary throttling. Valves with flat flaps and valves with claw-guided flaps can be fitted with a wipe to clean the valve seat before sealing, or with a rubber seal on the seat to improve the sealing performance of the valve.
The direct flow stop valve is usually cast and forged for high pressure valves. Special materials such as duplex stainless steel can be used to meet the requirements of different working conditions.