Pneumatic Solenoid Valve DGPV Series
Pneumatic Solenoid Valve is a pneumatic normally open Solenoid Valve which need to connect an external gas source(high-pressure refrigerant gas). It is suitable for the return air low-pressure pipeline of the refrigeration system and the hot gas defrosting system.
Product Information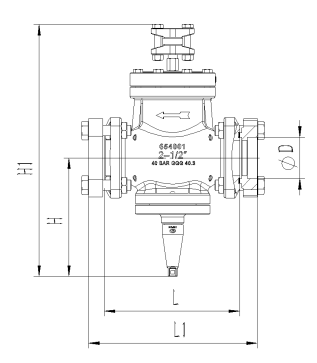 Technical Parameter:
Nominal Diameter: DN40-DN125
Pressure Adjustment Range: A:0~10.3bar D:5.2~19.3bar
Nominal Pressure: 2.8MPa
Applicable Medium: R12, R22,R502,R134a, R404a, R507, R717 and other refrigerants.
Applicable Temperature: -50 ℃ ~ + 120 ℃
Pneumatic Solenoid Valve

Name

Model (DN)

Size(mm)

φD

L

L1

H

H1

DGPV

40

47

248.5

300.5

222

452

50

59

248.5

300.5

222

452

65

78

252

331

222

466

80

91

311

389

273

500

100

110

359

450

292

553

125

135

393.6

475.6

410

635